Happy Tuesday everyone - hope you're all having a good day !
I'm here bringing you the next in my series of CT interviews - this week it's the turn of Julie (aka Mother Bear). If you've ever seen Julie's gallery, you'll know why I just had to invite her to my CT. She's a total star and somehow manages to churn out gorgeous page after gorgeous page every week !!!
How did you get started and how long have you been digiscrapping?
I was a paper scrapper, in 2008, and I was searching the internet for ways to edit my photos when I stumbled across digital scrapbooking. I joined a few forums, but it wasn't until December 2009 that it became this addictive obsession I now have. Now I never paper scrap
.
What advice would you give someone just starting out digi-scrapping?
Join a scrapping community you like and feels right, ask plenty of questions if you need to, participate in the challenges, be active on the forum and post comments in the gallery. Before you know it you will have lots of scrapping friends and you will learn heaps
.
On average, how much time do you spend scrapping each week?
Oh my goodness....alot of time....at least 6 hours a DAY. I can do this because I only work part-time and there's only me to take care of.
What are your scrapping strengths/weaknesses ?
I would have to say my biggest weakness is my journaling. I have so much trouble expressing what I want to say in a few words, my inability to know when to just stop and save my layout. I am constantly changing, or adding elements and papers. Clean and simple layouts as I just want to add more and more to them.
My strengths would have to be my photos, layering/clustering, blending and extractions.
Who or what inspires you in the scrapping community? Any person or site in particular that you look to for inspiration?
I find I usually have to look no further than the designers and other CT members of the teams I'm on. I am constantly amazed by their brilliance.
If you could have Andrea create a template pack just for you, what would it be and why?
I love lots of white space with 1-2 photos, lots of elements, layers and paper stacking.
What is your favorite LO you have ever done for Little Green Frog Designs?
It would probably be this one as I was challenged to use more than 2 photos on a layout.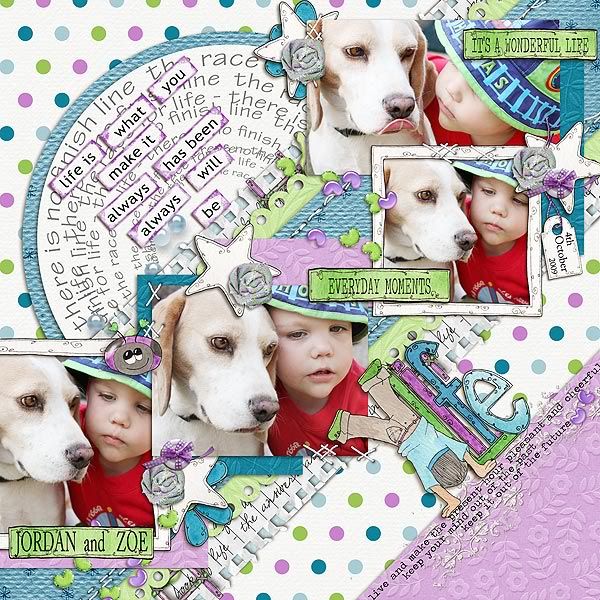 CREDITS
Made with
JUST FOR YOU TEMPLATE PACK
What wish have you not yet fulfilled?
To travel. These were plans and dreams my husband and I had on retirement.
If you could spend a day with anyone (dead or alive, famous or not), who would it be and why ?
My late husband of 37 years, who I lost so suddenly and unexpectedly almost 2 years ago. I would love to be able to say goodbye and tell him how much I love him as he passed away while working interstate and I still miss him so terribly.
If you were invisible for a day - what is the first thing you would do ?
Take photos of my youngest grandson while he is innocently at play. Children are incredible when they think no one is watching them.
Describe yourself in 4 words :
shy, reserved, private and unconfident
What bad habits do you have ?
I hate making important decisions on my own, I take everything personaly and to heart and I spend too much time on my computer.
Check out Julie's

gallery

for more fantastic layouts.
And in other news - tomorrow at

GingerScraps

, there will be a fun "non chat - chat" going on that I am sponsoring ! All participants get a template along with a coupon to my store.
I'll be back tomorrow with a little sneaky peek of my new releases for this week (along with a RAK). Kim will be back on Thursday with more GSO's and Emma will be here on Sunday with a little Father's Day Freebie !!