Hi Ladies, Melissa here. It's September, which means I will be celebrating my birthday at the end of the month. In honor of my birthday, I'm going to do the blog challenge a little differently. You will still have a template to use, the only change is, you will also have a recipe to follow. I promise to keep it simple.
The recipe to follow is this:
1. Since September is the 9th month, make a cluster with at least 9 items in it. You can cluster more than once, but I want to see a nine item cluster.
2. My birthday has a 2 in it, so use 2 alphas for the title.
2. My birthday also has a 7 in it, so use 7 papers; 4 solid and 3 patterned, no more, no less. You can get creative with this one, but make sure there are 7 papers.
3. My age has a 3 in it, so use 3 flowers and only 3 flowers. You can duplicate them as many times as you need to, resize them if you want, but only use 3 flowers.
5. My age also has a 6 in it, so journal at least 6 lines. You can do more if you need to.
That's it. Pretty easy, right? Here is the template. Image is linked.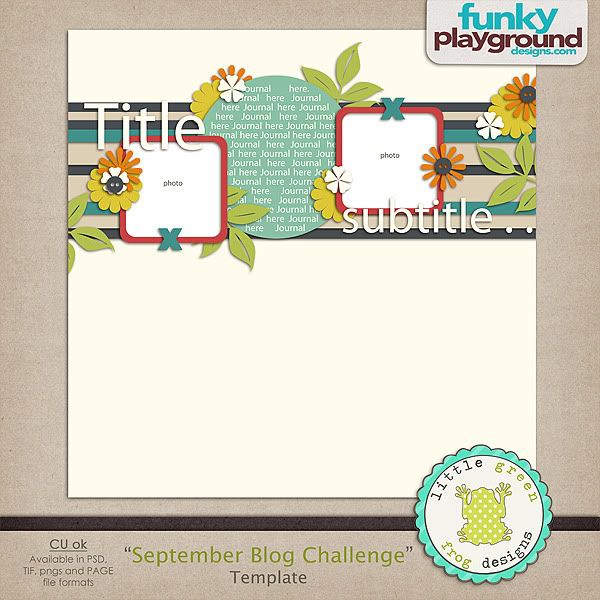 The PAGE files can be downloaded
HERE
.
My layout using the recipe:
Now, here is the moment everyone has been waiting for. The winner of the August Blog Challenge is Wendy!! Here is her awesome layout.
Congrats Wendy!!
Please post a link to your layout in the comments section of this post. If you can't post a comment, please PM or email Andrea. I can't wait to see the wonderful layouts everyone makes for this challenge.